(LAST UPDATED: December 14, 2020)
This comprehensive AweEraser Data Erasure Software Review covers all the pertinent points that you are required to know before using this Data Erasure Software to wipe out data from your hard drive.
The majority of computer users are scared of invaders over the web who are stealing or copying data from the hard drive. It is an important task to clean the storage, as cybercrimes are increasing day by day.
The reason behind this is that the customers are not managing the data properly. Big players in the online market steal data from an empty drive without any sweating. There is no need to share personal details or information with any strangers.
Due to this, a giant company in the market has developed software that is helpful for both beginners and experts. Anyone can use it on their device whether it is Mac or Windows. Here, we will discuss all ins and outs of the software that the user should know before getting into it. Let us begin below with AweEraser, data erasure software.
AweEraser Data Erasure Software: An Overview
AweEraser is developed by Magoshare, a software company and it acts as the best and reliable solution for all. It is a storage device eraser that proffers an advanced level of data eraser functions.
The company has developed this product for both Windows and Mac devices as a newbie can begin securing storage devices from the very first day. The company has some Windows 10 File Shredder.
Please bear in mind that erased data cannot get recovered in any case.
AweEraser enables you to delete all data from USB, SSD and HDD, memory card, and digital device too. It has an aim to shred all targeted files but it can also erase the hard drive, clean all browsing data, and wipe all unwanted & unused disk space. This software is a perfect tool for you to erase all private data from the device storage.
Do you want to know whether the software has sufficient features to fulfill the needs? Then, we are going to answer the same below by jotting down all features of the product as available below.
Features of AweEraser
Here are some of the features of AweEraser that we have mentioned below:-
Supported Devices
You can find different types of mass storage technology in the market and they come in various shapes as well as sizes. Compatibility is necessary for us and AweEraser signifies more than one file system and also, storage technology.
To exemplify, you can link this to your HDD, USB flash device, SSD, digital devices, and others. As far as Windows or Mac is concerned, you can go for this software in case of any.
File Shredder
If you want to delete either an entire disk or one or more files or folders, then you can go for an option that is Windows 10 File Shredder. The software has a good piece of algorithms that are helpful to shred files properly without wiping the whole disk. The algorithms do not do anything with non-chosen files and it disposes all chosen ones from the base.
Disk Wiper
You can use the disk wipers to wipe out all the fragments of the data if anything is left. With the help of an advanced level of disk wiper, you can remove the hard drive and it will remove past data partially hiding in the Hard drive.
The program recognizes partition and various file systems, so do not worry about the next level of rare or advanced file systems.
Eraser History
Human errors are too common but AweEraser keeps a track of all activities that we have done a few minutes ago or in the past. You can scroll through the previous actions taken by you, which offers you in-depth info regarding the storage device, file system, duration, date, time, and type of action.
There is no need to worried about the past actions taken by you because you can keep a check on the overall record.
Safe Data Eraser
Rumors can get viral easily rather than any virus and it cannot affect the readers in any manner. We would like to inform you that erasing the data from the storage of the device could never decrease the life expectancy of that storage space.
The advanced level of an algorithm cannot come in touch with the file system and it will remove all recoverable data. Also, the software does not hold such features that harm the drive and it will wipe recoverable fragments only.
UI & Hardware Requirements
Beginners think that they need a high-technology device to run this software but this is not the case. The requirements include 1GB RAM, 100MB free space, and a 1GHz processor. If we are talking about the user interface, then it does need any technical or advanced software skills to use this.
At last, we can say that Magoshare has released such a software that is a handy solution for all users. Just need ten minutes to run the software and understand its functionalities, then you can get mastery in it.
Technical Specifications of AweEraser
Developed by: Magoshare.

Version: 4.0
Release date: January 20, 2020
Date added: January 20, 2020
Compatibility: Windows & Mac
Supported Devices: erase any data type such as Computer (PC, desktop, or laptop), Hard drive (HDD/SDD), Memory card or SD card, Digital device, External hard drive,and USB flash drive.
Algorithms used: HMG Infosec Standard 5, DOD 5220.22-M, German FOFIS (two passes), Peter Gutmann's algorithm (35 passes), and U.S. Army AR380-19 (seven passes).
Other Requirements
Disk Space: Approximately 60MB
RAM: Around 128 MB
File System: NTFS 5, NTFS, EXT 2/3, FAT 12/16/32, HFS, and exFAT.
Three Modes for Flexible Data Erasure
AweEraser data erasure software is the most robust and best data erasure tool. It will assist the computer user to erase data securely from HDD and other storage digital devices.
Please think twice while using this program as the erased data cannot be recovered through any other recovery software.
Here, we have three modes for erasing as available under this program.
1. Erase Files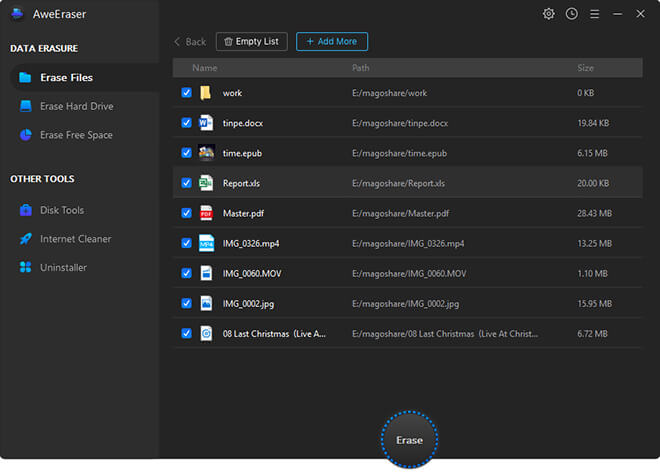 This erasure mode allows you to erase all files and folders securely as well as permanently from HDD or any other external device. You need to add a file or folder to the eraser list and then, tap on the "Erase" button. AweEraser will erase the chosen files or folders accordingly.
2. Erase Hard Drive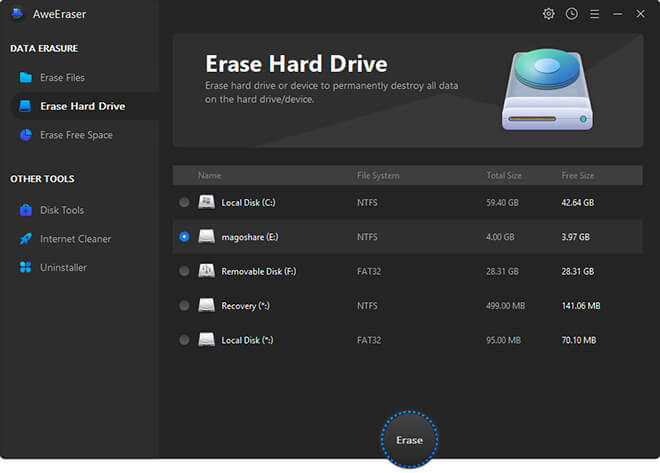 Mode 2 is used to wipe out all data on the hard drive or the hard device. You need to mark the triggered hard drive, then tap on the "Erase" button. The software will wipe out all data on the hard drive or any other external device.
3. Erase Free Disk Space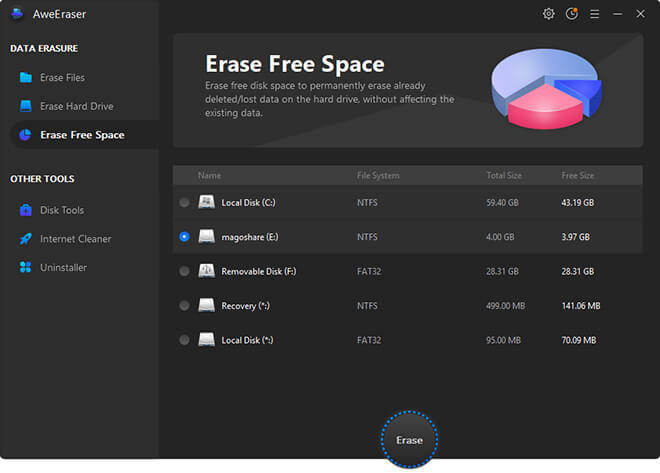 The deleted data cannot be deleted all the time and it remains in the free space. This data gets recovered by any recovery software and it is easy though. This mode is helpful to completely erase all free disk space to erase the erased files on the hard drive. It will not affect the present files or data on the Hard drive or device.
Tools Available in AweEraser
Apart from all these three modes of erasing data, we have some of the additional tools available under this software. Let us take a peek at these below.
Internet Cleaner
This tool is useful to scan the Windows System and assist you to clean the histories of the browser. It includes wiping out passwords, cookies, and caches to secure the user's privacy.
Uninstaller
It is good to uninstall all the programs in the device gradually or in batches. Also, it cleans up leftovers too.
Pros of AweEraser
Secure data erasure

Prevent recovery of data
Available to erase data from all devices
Certified data erasure
File shredder and disk wiper are available.
It has equipped with a powerful installer and secure privacy cleaner too.
Cons of AweEraser
The pricing packages are a bit steep.

No freeware is available.
The trial version has only limited files.
Pricing of AweEraser
As AweEraser is available for both Windows and Mac, so two packages are available based on individuals and business. Let us take a peek at this below.
Personal lifetime License @$29.95.

Enterprise Lifetime License @$199.00.
The Bottom Line
In a nutshell, we get to know that the software is a reliable and easy choice for all beginners who do not have any knowledge of advanced techniques. Also, it is available for all devices such as Windows and Mac.
However, the pricing packages are available but the trial version has a limited twelve files and no freeware is available. Thus, if your requirement is more, then there is a need to buy either a personal or an enterprise version of the program.
In the end, the software has some exceptional tools available and it includes Windows 10 files shredder. The only thing that you need to keep in your mind is that the data erased by Software cannot get recovered by any mode. Therefore, erase the data wisely or keep a backup of it.
Pen down all your reviews and experience with the software in the comment section below.